"Hong Kong & Canada – The Next 20 Years" | June 1 - 3, 2017 in Vancouver, BC
That's a wrap! Thank you to our sponsors, speakers and attendees for making this year's 2017 HKCBA National Conference "Hong Kong & Canada – The Next 20 Years" a success!
2017 marks the 20th anniversary of Hong Kong's handover from the United Kingdom to the People's Republic of China. Over the last two decades, Hong Kong and Canada have strengthened both cultural and economic ties; Hong Kong is host to Canada's largest expat community and ranks as Canada's 8th principal export market.
The 2017 HKCBA National Conference:
Hosted over 200 attendees, showcased insights from 18 speakers from across Canada, the USA and Hong Kong and 
Delved into past, present and future developments in Hong Kong-Canada relations
Crafted a dialogue on current trends in Hong Kong-Canada and China-Canada economic developments
Shared insights from Canadian companies on how they took advantage of the Hong Kong gateway to China, Asia and the rest of the world
Supported budding Canadian entrepreneurs in getting their product to market through our 2017 National Investment Pitch Competition
Stay tuned for more details on the 2018 National Conference.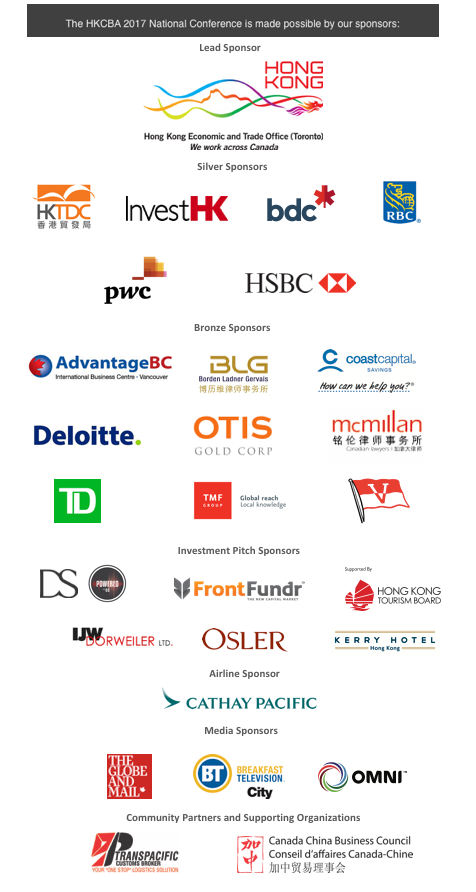 Congratulations to our 2017 award winners!
Business Leader Award
This annual award recognizes the success of a business leader who leverages the Canada - Hong Kong connection to grow a successful enterprise.  
Congratulations to JET Design Architect Inc., a Canadian architect form with a growing presence in Hong Kong and Asia. With creativity at the core of their business, JET's unique designs blend the inspiration of nature with technology and tools from the aerospace, automotive and industrial design industries. JET won the open competition against 100 architect firms from around the globe to design its showcase M+ Pavilion in Hong Kong's renowned West Kowloon Cultural District; building was completed just last year. Hong Kong's first class reputation, educated designer talent pool and proximity to other Asian markets made setting up a subsidiary a logical choice for JET Design as they look to further expand their business in Asia. 
National Investment Pitch Competition
1st Place
Orello Hearing Technologies
2nd Place
Mirage VR
3rd Place
Opti-fold Cosmetics
Click here for more details on the competition and qualifying teams.