Save the Date: Nov 30 - Dec 2, 2020
The Hong Kong - Canada Business Association leads a Canadian delegation to Hong Kong each year where attendees are invited to participate in business matching, sharing of market intel and business networking. The program includes:
The Transpacific Entrepreneurial Conference hosted in partnership with the Canadian Chamber of Commerce in Hong Kong will focus on investment and trade opportunities as they relate to Canadian companies
The E-tailing Summit will provide insights on of the impacts of rising digital consumption in China's economy
Exclusive Networking Opportunities with business professionals from across Canada, Hong Kong and the 34 member countries of the Federation of Hong Kong Business Associations Worldwide.
In 2019, 30 Canadians from coast to coast joined HKCBA in Hong Kong in December for a successful week of B2B as well as a little fun. See below for highlights from the week. 
December 2, 2019: HKCBA Program
HKCBA members heard exclusive insights from Jeff Nankivell, Canadian Consul General in Hong Kong, and Callan Anderson, Executive Director of the Hong Kong Corporate Services Group, in a members-only roundtable. The session was followed by a luncheon sponsored by the Hong Kong Trade Development Council. The afternoon provided a unique opportunity to connect with members and directors of the Canadian Chamber of Commerce. The evening wrapped up with an informal networking happy hour with the Hong Kong Business Associations in the United States. 
HKCBA members were provided with valuable connections as well as market intel specific to Canadian business success in Hong Kong, China and Asia. 
This 20th Hong Kong Forum brought together nearly 300 business leaders from 35 countries and regions to explore business opportunities in the Guangdong-Hong Kong-Macao Greater Bay Area (GBA), smart living, innovation and technology, digital innovation, as well as lifestyle and creativity sectors.  Attending members found this year's Forum program most useful in acquiring latest market news, and networking with different members and business contacts.
The 20th Hong Kong Forum at a Glance
23 prominent speakers
Close to 300 business leaders covering 35 countries and regions
Around 100 participants taking part in Young Executives Programme (YEP)
20 winners of the Outstanding Membership Award, the Best Initiative Award and newly introduced Excellent Start-up Award
37 members joined side-trip to Dongguan and Foshan
Close to 20 webcast interviews generated
Close to 90% of participants established potential business contacts
Over 75% of participants will consider using Hong Kong as a platform for business expansion after joining the Hong Kong Forum
December 4 - 8, 2019: Optional programming
Registration to the Hong Kong Forum includes the below conferences December 4 - 8, 2019:
Check back for updates as the program shapes up. If you have any questions or would like advice tailoring a program to best suit your business objectives, contact nationaled@hkcba.com.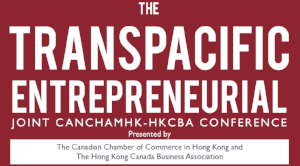 Jointly presented by the HKCBA and the Canadian Chamber of Commerce in Hong Kong, the Annual Transpacific Entrepreneurial Conference is tailored to educate Canadian startups, SMEs and corporations alike on the advantages of conducting business with Asia through Hong Kong. 
This conference serves as a bridge, connecting members to industry experts and professionals with in-depth market intelligence. We heard first hand experiences from Canadian firms operating in Hong Kong, why entrepreneurs are increasingly using Hong Kong as their link to mainland China and government organizations on their initiatives to support market expansion efforts.
Congratulations HKCBA Winnipeg and Ottawa!
At the Forum's award ceremony, HKCBA Winnipeg was presented The Best Initiative Award by the Hong Kong Business Associations Worldwide for its 2019 Scholarship program. HKCBA Ottawa and HKCBA Winnipeg were awarded the Outstanding Membership Award for their growth in the 2019 year.