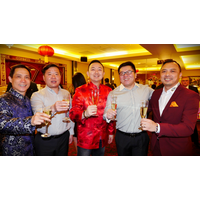 HKCBA rings in the Year of the Dog in style
The Hong Kong Canada Business Association (HKCBA) Calgary section rang in the Chinese New Year with a spectacular gala at the Regency Palace, celebrating the Year of the Dog. This event gathers business members together for an evening of networking, and celebration. It is also an opportunity for HKCBA to give back to the community through the annual scholarship program.
The gala attracts 400-500 guests every year from the business, academic and government communities, with VIP guests including the Lieutenant Governor of Alberta, the Mayor of Calgary, MLAs, Consul Generals, foreign diplomats and industry executives.
"The key inspiration for me is the opportunity for the business, academic and government communities to meet and to further strengthen the innovation ecosystem for the City of Calgary. As well as leveraging Hong Kong as the platform to expand the Asia Link for trade and investment opportunities," says Manford Kwan, President for HKBCA. Manford became the President in 2016 after being a member and attending the Gala for many years.
The festivities included a champagne reception courtesy of Stikeman Elliot, traditional lion dancers, a delectable ten course Chinese meal, door prizes, and raffle items, followed by a dance. Canadian artist Ellen Doty, provided musical performances, drawing the crowd to the dancefloor to close the night.
Proceeds from the raffle and silent auction items contribute to the HKCBA Scholarship Fund, a program that supports Calgarian students.This year, the raffle items were His & Hers Baume & Mercier Watches valued at over $5,580.00 courtesy of Birks at the CORE. Silent auction items included luxurious items from Michael Kors, BMW, Brooks Brothers, Hy's Steak House and Cocktail Bar, The Calgary Flames, The Calgary Zoo, Shaw and many more.
The HKCBA scholarship program recognizes four outstanding students from the Bissett School of Business (Mount Royal University) and the Haskayne School of Business (University of Calgary) with $10,000 worth of scholarships. Students are chosen based on interest in establishing business links between Canada and Asia, Asian studies, and participation in an international exchange to Hong Kong, China or Southeast Asia. This year's recipients were Parker Maris, and Zhixuan Lu of University of Calgary and Katherine Schwartz and Regine Siamen of Mount Royal University.
Maris describes his exchange at Tsinghua University as an incredible opportunity with indescribable value, giving him international education and life experiences. The scholarship will help him in his academic and career goals of attending the Peter A. Allard School of Law at the University of British Columbia to pursue a career in international human rights law.
The Year of the Dog is fitting for these scholarship winners, embodying the intelligence and responsibility of the loyal animal. The HKCBA National Chair, Craig Lindsay, describes that "in business, it is said that dogs that show initiative will be rewarded with success and good fortune" and that is exactly what these students have done.
The HKCBA continues to strengthen the Chinese community, and support business relationships at home and overseas. With more events and programs in the future, the fun has only begun for the HKCBA in 2018.
-Domenica Chieffo, HKCBA Calgary Section Volunteer
l'ACHKC fête l'année du Chien
La section de Calgary de l'Association commerciale Hong Kong-Canada (ACHKC) a fêté le Nouvel An chinois en grand, lors d'un gala spectaculaire organisé au Regency Palace. L'événement célébrant le début de l'année du Chien a accueilli des membres du monde des affaires pour une soirée de réseautage et de festivités. L'ACHKC a également profité de l'occasion pour redonner à la communauté, par l'entremise de son programme de bourses d'études annuelles.
Chaque année, le gala attire entre 400 et 500 invités provenant du monde des affaires, du milieu universitaire et du secteur public, ainsi que de nombreux invités d'honneur, dont la lieutenante-gouverneure de l'Alberta, le maire de Calgary, des députés provinciaux, des consuls généraux, des diplomates étrangers et des chefs d'entreprise.
« Ma motivation principale, c'est l'occasion de mettre en contact les communautés d'affaires, du milieu universitaire et du gouvernement afin de renforcer l'écosystème d'innovation de Calgary, ainsi que de promouvoir Hong Kong comme une plaque tournante pour élargir l'accès à l'Asie et aux possibilités commerciales et d'investissement qu'elle présente », affirme Manford Kwan, président de l'ACHKC. Manford a été nommé président en 2016, après avoir été membre de l'association, et assisté au gala, pendant plusieurs années.
Les festivités ont compris notamment une réception au champagne offerte par le cabinet d'avocats Stikeman Elliot, de traditionnelles danses du lion, un succulent repas chinois incluant dix services, des prix de présence, un tirage et de la danse. La soirée s'est terminée sur la piste de danse avec des prestations musicales de l'artiste canadienne Ellen Doty.
L'argent recueilli dans le cadre des tirages et de l'encan silencieux ira au fonds de bourses d'études de l'ACHKC, un programme à l'appui des étudiants de Calgary. Cette année, le prix du tirage était un ensemble de montres Baume & Mercier pour lui et elle d'une valeur de plus de 5 580 $, une gracieuseté de la bijouterie Birks du centre commercial The CORE. De plus, dans le cadre de l'encan silencieux, les invités ont pu miser sur une variété d'articles de luxe offerts notamment par Michael Kors, BMW, Brooks Brothers, Hy's Steak House and Cocktail Bar, les Flames de Calgary, le Zoo de Calgary, Shaw.
Le programme de bourses d'études de l'ACHKC récompense le travail exceptionnel de quatre étudiants de la Bissett School of Business (Université Mount Royal) et de la Haskayne School of Business (Université de Calgary), en leur accordant des bourses d'études d'une valeur de 10 000 $. Les étudiants sont sélectionnés en fonction de leur intérêt à établir des liens commerciaux avec l'Asie, la poursuite d'études asiatiques et leur participation à un programme d'échange à Hong Kong, en Chine ou en Asie du Sud-Est. Les récipiendaires de cette année sont Parker Maris et Zhixuan Lu de l'Université de Calgary, ainsi que Katherine Schwartz et Regine Siamen de l'Université Mount Royal.
Parker Maris a décrit son échange à l'Université Tsinghua comme une occasion formidable d'une valeur inestimable, qui lui a offert la possibilité d'étudier à l'étranger tout en acquérant de précieuses expériences de vie. La bourse l'aidera à atteindre ses objectifs d'études et de carrière, soit d'étudier à la Peter A. Allard School of Law (la faculté de droit de l'Université de la Colombie-Britannique) pour ensuite poursuivre une carrière en droit international des droits de la personne.
Il est approprié que ces bourses aient été remises au début de l'année du Chien, un animal fidèle qui incarne l'intelligence et la responsabilité. Craig Lindsay, président national de l'ACHKC, explique que dans le monde des affaires, on dit souvent que « les chiens qui font preuve d'initiative sont récompensés par le succès et la bonne fortune », et c'est exactement ce que ces étudiants ont réussi à faire.
L'ACHKC continue de renforcer la communauté chinoise et de soutenir les relations au pays et à l'étranger. Avec de nombreux événements et programmes à venir en 2018, les festivités ne font que commencer pour l'ACHKC.
- Domenica Chieffo, bénévole, section de Calgary de l'ACHKC
---