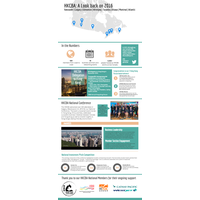 HKCBA's Year In Review: 5 Things We Learned in 2016
2016 was everything but normal. Normal is a setting on a dryer.
It has been an eventful year for the world as well as for the Hong Kong Canada Business Association. We celebrate 2016 as a year of phenomenal achievements, refreshing initiatives, and they all owe their success to local chapters' endless efforts and our members' active involvement.
In honour of the first Hong Kong Canada Business Association blog post of 2017, we compiled a list of just a few of the most important things we have learned in 2016.
1. Each member has successfully invited 4 of their friends to HKCBA events.
We had 908 members combining 8 chapters from coast to coast by the end of 2016. However, we are an inclusive meeting place for influencers, professionals, business owners, and youths who operate at the intersection of Hong Kong and Canada. There are more than 4,600 hosted at 46 business seminars and networking events across Canada.
2. There's more to the Hong Kong Forum than conveniently escaping the Canadian winter.
59 HKCBA delegates attended the 17th Annual Hong Kong Forum in November. The HKCBA co-hosted the Transpacific Entrepreneurial Conference with Canadian Chamber of Commerce in Hong Kong featuring distinguished speakers. We have also brought home 3 Hong Kong Forum Awards including the Success Story Award, the Best Initiative Award, and the Outstanding Membership Award.
3. Stampede is not the only time of the year when Calgary is rowdy.
The HKCBA welcomed over 220 attendees in Calgary, Alberta in June for our National Conference. The event uncovered recent trends in Hong Kong, China and Asia, celebrated successful business initiatives between Canada and Hong Kong as well as shared insights on Hong Kong's startup friendly environment.
4. The concept of "starting small" clearly does not apply to entrepreneurship.
The National Investment Pitch competition at the National Conference highlighted Canada's entrepreneurial spirit. Post-secondary student teams pitched their business ideas, leveraging the "Canada-Hong Kong Advantage", live to conference attendees and a panel of seasoned professionals for their shot at $50,000 in cash and prizes.
5. Never "fly" solo.
We could not have done it alone. A huge thank you to our partners HKETO, HKTDC and our corporate sponsors Cathay Pacific and WestJet for their support. Cathay Pacific continues to be our National sponsor in 2017 and their airline tickets are offered as raffle prizes at some of our upcoming New Year Galas.
In the Chinese zodiac, 2017 is the year of the Rooster which is associated with fidelity and punctuality. We are looking forward to a new year filled with possibilities and promise with each and every one of you. We wish everyone reading this blog a very prosperous New Year, with the warmest of aspirations.
HKCBA hosts annual Chinese New Year celebrations from coast to coast. You are cordially invited to ring in the new year with HKCBA as well as connect with members from across the country. In light of the Year of the Fire Rooster, the night will be a blast where you rekindle old partnerships and fuel your career with flickering opportunities. Register now and secure your spot.
---