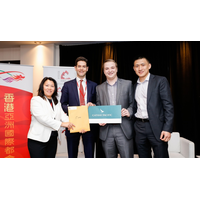 Article: http://www.sfu.ca/sfunews/stories/2017/06/sfus-coast-capital-savings-venture-connection-client-orello.html
By Wan Yee Lok
SFU's Coast Capital Savings Venture Connection client Orello Hearing Technologies took home first place at the 2017 Hong Kong-Canada Investment Pitch Competition held earlier this month. In all, four SFU-affiliated companies made the prestigious top-six final.
The competition is part of the Hong Kong-Canada Business Association (HKCBA) National Conference.
Orello won a $10,000 cash prize, $5,000 in legal assistance and a trip for two to Hong Kong to attend HKCBA's annual flagship event in December.
Orello is a socially-driven technology company whose mission is to make hearing healthcare more accessible and affordable for everyone. The company offers the only hearing aid that users can custom fit and tune to their own specific frequency loss without having to see a specialist.
Born out of SFU's second Technology Entrepreneurship@SFU (TechE@SFU) cohort, Orello is one of the first TechE@SFU co-op teams to become clients of Coast Capital Savings Venture Connection. Earlier this year, Orello won the Coast Capital Savings Venture Prize.
"We were honoured just making the finals to the Hong Kong-Canada Investment Pitch Competition, so to win it was very exciting," says William Brenner, Orello's CEO and an SFU Beedie School of Business alumnus.
Orello will use the majority of the prize money towards prototype development, which is currently in its fifth generation.
"We are very close to having our product ready to take to the market and the prize money will help us achieve it."
SFU was one of 20 Canadian universities to participate in the competition, which featured ventures that emphasized trade between Canada and Hong Kong, or Hong Kong and other Asian countries.
Three other SFU-affiliated ventures among the top-six finalists were:
HockeyData, which provides hockey-specific analytics and information to teams, players, agents and scouts. (affiliated with SFU's Coast Capital Savings Venture Connection)
Ophthalight, which develops advanced mobile health tools designed to increase the accuracy, speed, and profitability of eye exams. (affiliated with SFU's Coast Capital Savings Venture Connection)
ClickDishes, an on-demand food tech startup that reinvents traditional food ordering methods and restaurant operations management. (affiliated with SFU VentureLabs®)
---