Registration for this event has passed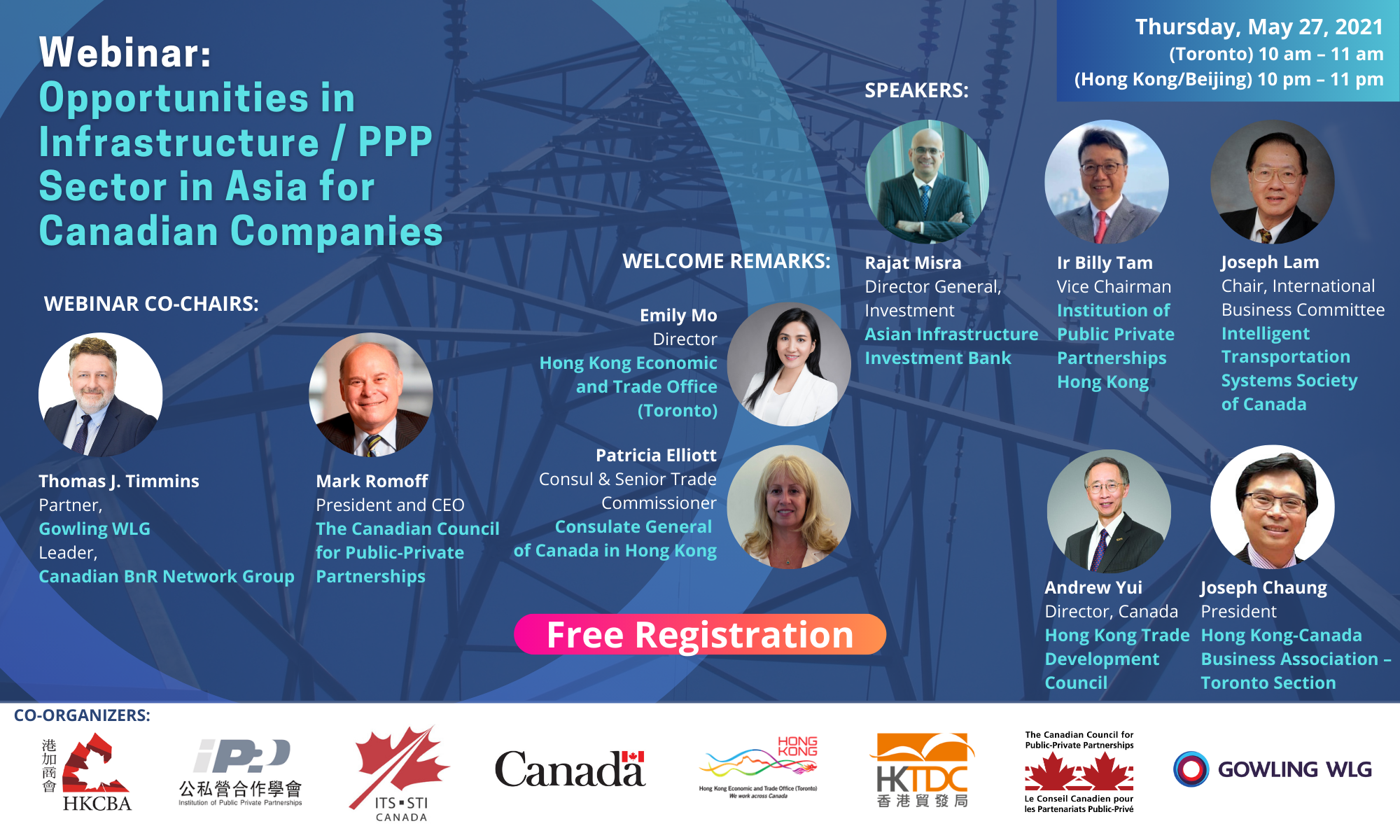 The infrastructure and PPP (Public Private Partnerships) developments in Asia have played an important role in the region's socio-economic growth in recent decades. Canadian companies have been actively participating in these projects covering a wide range of disciplines such as project management, investment, professional services, equipment and materials, ICT, logistics & supply chain, etc.
Since early 2020, the COVID-19 pandemic has disrupted the whole world and the infrastructure sectors and industries are not immune. This webinar will look at the infrastructure and PPP sectors in Asia in the new normal as well as the trends in post-COVID recovery, and the possible opportunities for Canadian companies.
Please join us and our guest thought-leaders to exchange experience and insights, and chart actions for Canadian companies aspiring to expand or start their participation in Asia's infrastructure and PPP developments.
Programme outline
Webinar Co-Chairs: Thomas J. Timmins
Partner, Gowling WLG
Leader, Canadian BnR Network Group
Mark Romoff, President and CEO
The Canadian Council for Public-Private Partnerships (CCPPP)
Opening remarks: Emily Mo, Director
Hong Kong Economic and Trade Office (Toronto)
Patricia Elliott, Consul & Senior Trade Commissioner,
Consulate General of Canada in Hong Kong
Panel discussion: Rajat Misra, Director General
Infrastructure Investment Department Region I
South Asia, SE Asia & Pacific
Asian Infrastructure Investment Bank (AIIB)
Ir Billy Tam, Vice Chairman
Institution of Public Private Partnerships (IPPP) Hong Kong
Joseph Lam, Chair
Intelligent Transportation Systems Society of Canada (ITS Canada)
Brief introduction on an upcoming initiative for Canadian companies:
Andrew Yui, Director, Canada
Hong Kong Trade Development Council (HKTDC)
Concluding remarks: Joseph Chaung, President
Hong Kong-Canada Business Association (HKCBA) Toronto Section
Registrations are complimentary but reservations are required.
Registration link: https://bit.ly/3gSRguz (Note: if you encounter any technical problems of using this registration link, please do not hesitate to contact Andrew Yui at andrew.yui@hktdc.org)
About the Speakers/Panelists:
Webinar Co-Chairs:

Thomas J. Timmons

Partner, Gowling WLG

Leader, Canadian BnR Network Group

Tom is a Toronto-based Partner of Gowling WLG. One of Canada's leading renewable energy and infrastructure project lawyers, he has led on a number of the firm's most significant power sector mandates. These include major Canadian and international transactions, as well as key advisory roles for utilities, governments and project developers. Tom currently serves as the Leader of Gowling WLG's Energy Group and Co-Leader of its China Practice. As the Leader of the Canadian BnR Network Group, Tom has led Canadian delegations to participate in the annual BnR Summits in Hong Kong.

Mark Romoff

President and CEO, The Canadian Council for Public-Private Partnerships (CCPPP)

Established in 1993, CCPPP's mission is to collaborate with all levels of government, Indigenous Communities and the private sector to enable smart, innovative and sustainable approaches to developing and maintaining public infrastructure that achieves the best outcomes for Canadians.

Previously, Mark was founding President and CEO of the Ontario Centres of Excellence, Canada's leading innovation, technology commercialization and entrepreneurship development organization. Over his twenty five year career with the government of Canada, Mark served as Executive Director in the Department of Industry and as a senior diplomat in the Department of Foreign Affairs and International Trade (Global Affairs Canada), serving in Nigeria, Mexico, Malaysia, Japan and the United States.

He is a member of the Board of Directors of the Central Canadian Public Television Association (PBS-WNED); the i-CANADA Governors Council; the World Economic Forum "Strategic Infrastructure Initiative" Advisory Committee; and is Vice-Chair of the United Nations Economic Commission for Europe Working Party on Public-Private Partnerships Governing Council. He also served as Chair of the Canadian Smart Cities Challenge Jury.

He earned a Bachelor of Science from McGill University, a Masters in Applied Science from the University of Waterloo, and is a graduate of the Harvard University Kennedy School of Government Senior Executives Program and the Directors Education Program of the Canadian Institute of Corporate Directors and holds the ICD.D (Certified Director) designation. Mark is also a recipient of the 2012 Queen Elizabeth II Diamond Jubilee Medal.

Opening Remarks Speakers:

Emily Mo

Director,

Hong Kong Economic and Trade Office (Toronto)

Emily joined the Government of the Hong Kong Special Administrative Region of the People's Republic of China in 2001 as a member of the Administrative Officer Grade. Before taking up the Director post in the Hong Kong Economic and Trade Office in Toronto in December 2018, she had worked in different offices, including the Home Affairs Department, the then Environment, Transport and Works Bureau, the Security Bureau, the University Grants Committee Secretariat and the Tourism Commission of the Commerce and Economic Development Bureau. Before coming to Toronto, Emily served as the Deputy Head of the Human Resources Planning and Poverty Co-ordination Unit under the Chief Secretary for Administration's Private Office. She was responsible for providing secretariat support to the Human Resources Planning Commission and Commission on Poverty under the chairmanship of the Chief Secretary for Administration, as well as monitoring the implementation progress of the initiatives and the delivery of policy objectives agreed by the two commissions. Emily received her Bachelor of Arts degree from the University of Hong Kong.

Patricia Elliott

Consul & Senior Trade Commissioner,

Consulate General of Canada in Hong Kong

Patricia assumed the position of Consul and Senior Trade Commissioner at the Consulate General of Canada in Hong Kong in September 2019. Patricia is responsible for the Trade and Investment Team for a territory that covers Hong Kong and Macao.

Prior to her arrival, Patricia had a similar position at the Canadian Consulate General in Los Angeles for four years, responsible for a territory that included Southern California, Arizona and Nevada. Patricia has also served as the Regional Director and Senior Trade Commissioner for the Prairies (Alberta, Saskatchewan and Manitoba) and the Northwest Territories and responsible for the delivery of the Government of Canada's international trade agenda. In addition to Patricia's role as Deputy Director for the Vancouver Regional Office (Pacific Region), she was the lead for the Global Affairs Canada's Global Business Leaders Initiative that took place during the 2010 Olympic Games in Vancouver, British Columbia.

With a background in strategic planning, managing portfolio partners and a focus on client delivery, Patricia is fluently bilingual in English and French. Patricia graduated from Université Laval with a focus on Public Communications. She has worked with numerous departments in the Canadian Federal Government and has received five Deputy Minister's Awards during her career.

Patricia is an avid reader of historical fiction, enjoys yoga, skiing and is consistently planning her next travel adventure. She is planning to continue her attempts to master paddle boarding in the waters of Hong Kong, a technique she initiated while living in Southern California.

Webinar Panelists:

Rajat Misra

Director General,

Infrastructure Investment Department Region I, South Asia, SE Asia & Pacific

Asian Infrastructure Investment Bank (AIIB)

Rajat has more than 25 years of experience in the Infrastructure space, spanning Investment Banking, Private Equity, Project Finance and Design Engineering roles. Prior to AIIB, he spent 18 years at Investment Banking arm of State Bank of India, amongst the top 5 global MLAs for Project Finance. Rajat has extensive experience in originating and executing deals spanning debt, equity and advisory space across South Asia and Middle East. He has been recognized as a thought leader and was a member of key committees formed by the Government / Regulators in India, as well as Industry bodies. Served as a member of CII and FICCI National Committees on Power and headed Maharashtra State CII Panel on Energy for Year 2016. He has served as a Director and Investment Committee member at the SBI Group – DFID fund for Infrastructure. He started his career as R&D engineer at BHEL, a leading power equipment manufacturing company and published several papers in international journals.

Rajat holds a post graduate degree in Business Management from Xavier's Institute and Graduation in Engineering from IIT Varanasi, India. He has attended the Executive Program in Infrastructure at Kennedy School, Harvard University and has been a regular speaker at conferences in the infrastructure space.

Ir Billy Tam

Vice Chairman, Institution of Public Private Partnerships (IPPP) Hong Kong

Dean, TPMA Academy

Billy is a professional engineer with over 30 years' experience in planning and implementation of PPP railway projects in Hong Kong and mainland China. At present, Billy is the Project Manager of an EPC Contractor for a PPP high speed rail project in Thailand.

Billy was the Project Manager for MTR Corporation Hong Kong responsible for planning, design and construction of PPP railway projects - Light Rail Project and West Rail Project in Hong Kong, and Beijing Line 16 Project in mainland China. Billy also specialised in business development of PPP railway and "Rail plus Property" investment models in mainland China.

In 2017, IPPP produced the Chinese translation of PPP Certification Guide from the World Bank Group. Billy has put great efforts in advocating PPP best practices and CP3P Certification Programme in mainland China and Southeast Asia countries. Billy is the Dean of TPMA Academy delivering World Bank Group accredited CP3P training courses for PPP professionals. Billy's expertise includes strategic planning, feasibility study, contracting, design & construction management and testing & commissioning of railway projects.

Joseph Lam

Chair, International Business Committee, Intelligent Transportation Systems Society of Canada (ITS Canada)

Independent Advisor on Intelligent Transport Systems

Joe received his engineering degree from the University of St. Andrews, Scotland and has been active in the ITS (Intelligent Transport Systems) field for over 40 years. He started his ITS career by spending 11 years with the Metropolitan Toronto Traffic Control Centre, managing the first computerized signal system in the world.

Since March 2014, he has been acting as an independent advisor to public agencies and private companies in North America, Europe and Asia on various aspects of ITS, including planning and implementation, business strategies, product development, partnering and tender competitions. His most recent efforts include:

Conducting an ITS Market Trends Assessment for Transport Canada.

Advising the Hong Kong Transport Department on the development of a Smart Mobility Roadmap, in conjunction with the University of Hong Kong.

Assisting a Canadian ITS company in developing a congestion and incident detection system using Google traffic data for the City of New Taipei.

Advising the Ministry of Transportation of Taiwan on various aspects of a new air terminal for the City of Taipei.

Prior to March 2014, Joe served as the Managing Director of Delcan International Corporation, with his main focus on ITS business development and management of client and partnership relations around the world.

During his tenure as Delcan's President of Systems Business, Canada & International Operations, Joe directed a group of traffic, communications and software engineering professionals on numerous innovative and award winning ITS projects, and contributed significantly to the export of Canadian technology to manage traffic congestion problems around the world. In this position, he developed an extensive network of ITS professionals and transportation decision makers in the global ITS arena.

He has authored numerous reports and papers on various aspects of ITS, and regularly speaks on this subject at conferences and lectures in universities around the world. He was the Chairman of ITS Canada between 1998 and 2009, during which he dedicated himself to the development of ITS in Canada. He was also a Director and Vice President of the Transportation Association of Canada between 2001 and 2009.

In the Year 2000, he received from the Canadian National Transportation Week an Award of Excellence for an Outstanding Contribution to Transportation in Canada. In 2012, he received an award from ITS Canada as the Distinguished Member of the Year for his past contribution to the ITS industry around the world. His business development and operation efforts in Hong Kong in the past two decades led to Delcan being awarded in early 2014 the Inaugural Hong Kong - Canada Business Performance Award jointly by the Hong Kong Economic and Trade Office and the Hong Kong-Canada Business Association.

Joe currently serves ITS Canada as the Chair of the International Business Development Committee.

Speaker on "Window of Opportunity":

Andrew Yui

Director, Canada,

Hong Kong Trade Development Council (HKTDC)

Andrew was appointed Director, Canada of HKTDC in July 1993. HKTDC is Hong Kong's statutory body responsible for the promotion of international trade (imports and exports) in merchandise, services and technologies, via the Hong Kong platform. The Council works through a network of 50 offices worldwide. The HKTDC Branch Office in Canada, based in Toronto, is established to encourage and assist Canadian companies to diversify their business to Asia through Hong Kong. Since early 2020, to help Canadian companies to beat the COVID barrier, HKTDC Toronto Office has joined forces with like-minded multiplier partners like HKCBA, HKETO and many others in staging Canadian virtual missions to online Hong Kong international trade fairs and conferences.

Concluding Remarks Speaker:

Joseph Chaung

President,

Hong Kong-Canada Business Association (HKCBA) Toronto Section

https://toronto.hkcba.com/cpages/home

President, C4P Inc.

Joseph is the Founder and President of C4P Inc which is specialized in product design and project development, sales and marketing of innovative products especially those in the green and alternative energy sector. With more than 30 years of experience in the product design and development industries in North America, Asia and Europe, Joseph has successfully worked with many inventors and designers in developing many new products.

Joseph has also been actively involved in many business and volunteer organisations. He is the President of the Hong Kong-Canada Business Association (HKCBA) GTA Toronto Section which actively assists Canadian companies in doing business with Hong Kong and through Hong Kong with other Asian countries. He is the Founder and Immediate Past President of the Oakville Chinese Business Association, the Co-Chair of the Mississauga Community Crime Awareness Day Event for many years and a Board Member of the Mississauga Chinese Business Association. He is currently a committee member of the Peel Region Police Chief's Advisory Committee, and a Director of Safe City Mississauga.

As a Director of the Product Innovation Technology Advisory Committee, Humber Institute of Technology & Advanced Learning, Joseph supports many Canadian university/college graduates in their start-up projects and business. He is a professional mentor for many Canadian industrial design graduates assisting and encouraging them to promote their inventions to the World.

Joseph has received many recognitions including a Canada Senate 150th Anniversary Medal, the 2019 Most Progressive Award from ACCE (Association of Chinese Canadian Entrepreneur). He was also invited by the Canadian Federal Government to join the Team Canada to China in 2015 led by then Prime Minister Steven Harper. He was also invited by the Ontario Government to join the Innovative Industrial Missions to Japan and Korea in 2015, 2017 and 2019.
For more information about this webinar, please contact Andrew Yui at andrew.yui@hktdc.org
********