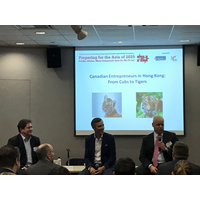 3 takeaways from HKCBA's recent trip to Hong Kong
HKCBA flew the cold Canadian coupe early December for our annual trip to Hong Kong enjoying a week of business seminars, networking and of course a bit of fun.
Our Canadian delegation attended the 18th Annual Hong Kong Forum as well as a program specifically targeted to Canadian companies doing business with or looking to expand their reach to Hong Kong. This included a morning of exclusive presentations targeted to Canadian businesses as well as our annual joint event with the Canadian Chamber of Commerce in Hong Kong.
The program shed insights on a wide range of topics, however we have summarized 3 key takeaways for those who missed the event.
International trade is here to stay
While some countries may be moving towards protectionism, the Canadian government is committed to its continued efforts in opening trade corridors for companies looking to expand their global reach. Canada has a strong reputation abroad, and "Brand Canada' is a strategic advantage not to be ignored. Peter Hall, Vice President and Chief Economist for Export Development Canada, noted that with some companies looking to focus on their local markets, supply chains that previously were not available are freed up for Canadian companies to access. With multiple government resources available to assist companies not only in Asia, but around the world, this is the time for companies to get their foot in the door.
SMEs are thriving in Asia
Innovation is a popular term when talking about today's game-changers, and one China has placed an emphasis on in its latest Five-Year Plan. With as many as 10,000 new-market players registering in China a day, innovation-driven growth is quickly becoming a major influential force in the country's economic development. We heard from a variety of entrepreneurs who have successfully used Asia as a pivotal component of their business plan. Nanoleaf, a green technology company specializing in LED lighting, is founded by three students from the University of Toronto and received over 7,000 investors online through their kickstarter campaign. They chose to headquarter their company in Hong Kong due to its proximity to China and its manufacturing/supply chains; rule of law to protect intellectual property; favourable taxation; strong talent pool; government resources; strong logistics hub and access to quality capital. The company now has 35 employees and over $12 million in turnover.
Hong Kong is as relevant as ever
With recent developments in Canada-China relations and future possibility of a free trade agreement between the two nations, some might wonder why Hong Kong is still relevant. Callan Anderson, Executive Director of the Hong Kong Corporate Services Group, shared that more and more Chinese companies are using Hong Kong to trade with western nations. Hong Kong has a number of advantages to protect companies doing business with China which include:
Rule of Law: Under the principal one country, two systems Hong Kong has its own legal system, distinct from the PRC

Tax benefits: Hong Kong's 16.5% profit tax makes it one of the most tax-friendly economies for business in the world

IP: trademark disputes can be heard in Hong Kong

Economic Partnership Agreement (CEPA): the free trade agreement between Mainland China and Hong Kong makes it a preferred partner for market access and flow of money out of China
For those new to HKCBA and its programs – each year we lead a delegation of business professionals to Hong Kong for a Canada specific program, followed by the annual Hong Kong Forum attended by leaders from across 30 countries and 40 international Hong Kong business associations. Our next national event is the HKCBA National Conference May 25th, 2018 in Montreal where we will continue discussions on international trade agreements and Hong Kong's role in broaching these new markets.
Trois points saillants du récent passage de l'ACHKC à Hong Kong
À la fin du mois de décembre dernier, l'Association commerciale Hong Kong Canada (ACHKC) a quitté le froid hivernal canadien pour effectuer son voyage annuel à Hong Kong et prendre part à une semaine de séminaires d'affaires et de réseautage incluant, bien sûr, quelques moments de divertissement.
En plus d'assister à la 18e édition annuelle du Forum de Hong Kong, notre délégation canadienne a participé à un programme s'adressant spécifiquement aux entreprises canadiennes faisant affaire avec Hong Kong ou souhaitant étendre leurs activités vers ce marché. Ce programme a compris notamment une matinée remplie de présentations exclusives à l'intention des entreprises canadiennes ainsi que notre événement annuel organisé en collaboration avec la Chambre de commerce du Canada à Hong Kong.
Bien que le programme ait abordé une foule de sujets intéressants, voici un résumé des trois principaux points saillants de l'événement, pour ceux qui n'ont pas pu y assister :
Le commerce international n'est pas près de disparaître.
Bien qu'on puisse observer une montée du protectionnisme dans certains pays, le gouvernement du Canada s'engage à poursuivre ses efforts visant à ouvrir de nouvelles voies commerciales pour les entreprises souhaitant élargir leur portée internationale. Le Canada jouit d'une réputation solide à l'échelle internationale, et l'image de marque du Canada constitue un avantage stratégique non négligeable. Selon Peter Hall, vice-président et économiste en chef à Exportation et développement Canada, le fait que certaines sociétés aient décidé de reconcentrer leurs efforts dans leurs marchés locaux a permis de libérer certaines chaînes d'approvisionnement auxquelles les entreprises canadiennes n'avaient jusqu'à présent pas accès. De plus, grâce aux nombreuses ressources gouvernementales à leur disposition, non seulement en Asie, mais partout dans le monde, c'est le moment idéal pour les entreprises canadiennes d'établir une présence dans de nouveaux marchés.
Les PME connaissent un essor en Asie.
L'innovation, un terme souvent employé lorsqu'on parle de « facteurs qui changent la donne », est un élément central du dernier plan quinquennal de la Chine. En effet, avec plus de 10 000 nouveaux acteurs arrivant chaque jour sur le marché chinois, la croissance générée par l'innovation est en voie de devenir l'un des principaux facteurs de développement économique en Chine. Au cours de l'événement, nous avons par ailleurs pu entendre de nombreux témoignages d'entrepreneurs qui ont réussi à tirer parti du continent asiatique en faisant de celui-ci un point central de leurs plans d'affaires. C'est notamment le cas de Nanoleaf, une entreprise de technologie verte spécialisée en éclairage DEL. Fondée par trois étudiants de l'Université de Toronto, l'entreprise a su attirer plus de 7 000 investisseurs en ligne par l'entremise d'une campagne Kickstarter. Les propriétaires de Nanoleaf ont décidé d'établir leur siège social à Hong Kong, en raison de sa proximité de la Chine et des chaînes de production/d'approvisionnement, de ses lois en matière de protection de la propriété intellectuelle, de ses lois fiscales favorables aux entreprises, de son vaste bassin de talents, de son emplacement idéal sur le plan de la logistique, ainsi que des ressources gouvernementales à disposition et de l'accès à des sources de capitaux de qualité.
Hong Kong demeure un acteur important.
Si l'on considère l'évolution récente des relations entre le Canada et la Chine, de même que la possibilité d'un accord libre-échange entre ces deux pays, on peut se demander pourquoi Hong Kong est toujours considérée comme un acteur important. Selon Callan Anderson, directeur exécutif du groupe Hong Kong Corporate Services, de plus en plus d'entreprises chinoises passent par Hong Kong dans le cadre de leurs activités commerciales auprès des pays occidentaux. En effet, Hong Kong présente de nombreux avantages en ce qui concerne la protection des pays faisant affaire avec la Chine, dont :
Le système juridique : conformément au principe d'« un pays, deux systèmes », Hong Kong dispose de son propre système juridique qui est distinct de celui de la République populaire de Chine.

Les avantages fiscaux : présentant un taux d'impôt sur les bénéfices de seulement 16,5 %, Hong Kong est l'un des endroits les plus fiscalement avantageux au monde.

La réglementation sur la propriété intellectuelle : à Hong Kong, il existe des lois protégeant les marques de commerce déposées, et le non-respect de celles-ci peut entraîner des poursuites.

L'accord de partenariat économique resserré (Closer Economic Partnership Agreement – CEPA) : l'accord de libre-échange entre la Chine continentale et Hong Kong fait de cette dernière un partenaire de choix en ce qui concerne l'accès au marché chinois et le transfert de capitaux à l'extérieur de la Chine.
Renseignements contextuels pour ceux qui ne connaissent pas encore l'ACHKC ou ses programmes : Chaque année, l'ACHKC se rend à Hong Kong avec une délégation de professionnels du monde des affaires pour participer à un programme conçu spécifiquement pour les Canadiens, puis au Forum de Hong Kong, un événement annuel accueillant des chefs de file de 30 pays ainsi que les représentants de 40 associations commerciales internationales de Hong Kong. Notre prochain événement national, la Conférence nationale de l'ACHKC, aura lieu le 25 mai 2018 à Montréal et portera sur les accords de libre-échange internationaux et le rôle de Hong Kong auprès des entreprises souhaitant établir une présence dans les marchés asiatiques.
---