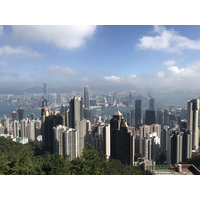 Hong Kong Time Machine
Written by Callan Anderson, Executive Director, Hong Kong Corporate Services Group
The recent COVID-19 pandemic has dropped a significant cloud on the entire world, in many ways at the same time proving and disproving the merits of the global economy and trading routes we have all come to depend upon. From shortages of basic necessities to anger at countries for allowing the virus to spread so quickly and so far, it is sometimes difficult to see any light at the end of the tunnel.
For many in Canada, you are in a lockdown with the inability to go to your office let alone fly around the world for business and meetings that regularly filled the annual calendar of prospects, knowledge and sales. As I sit in Hong Kong where a lockdown, circuit breakers or quarantine have not been used, life is more or less the same despite everyone's face being covered in surgical masks. Yes, the Hong Kong Government has won a high degree of praise from the international media in curtailing the epidemic in our city, mainly due to the very early closure of schools, kindergartens, universities and our borders with Mainland China. We also suffered, as did Canada from the SARS virus in the 2002, so our ability to handle a virus has been engrained in our medical services.
As of today, Hong Kong has one main border to China still operating via the Hong Kong-Zhuhai-Macau bridge, which is not only Hong Kong's main food route but also China's artery to shipping and logistics in Hong Kong from the Greater Bay Area.
I do not underestimate the problems for Canadians who are self-quarantined at home, but I would urge those who are engaged or looking at doing business around the world that this is the perfect time to look at opportunities once the virus has subsided. I have used the comparison of H.G. Wells story of the Time Machine, where in our case we don't know what button on the time machine we pressed, we don't know where we will land and we don't know when we will stop. In such a case, we need to be ready to jump into gear once the wheels of global trade restart, and based on all the economic indicators the starting point will be Asia.
Hong Kong has continued to be a dynamo of business where our office has not stopped since the outbreak in early January. China slowed dramatically, but has ramped up to almost 82% of industrial production levels in two weeks since Wuhan opened up. One of the biggest issues for China and Hong Kong is that most of the container ships or cargo planes are not in the right place globally since the pandemic started, but as a sign of the significance of goods coming in and out of China, domestic-and foreign-owned international cargo flights in China and Hong Kong are expected to hit 4,445 this week, over three times higher than the 1,014 flights made before the outbreak.
We have to remember that China is not only a manufacturing Hub it is also a middle class of 450m people that want to spend money and spend money on international goods. The first day that Hermes opened its flagship store in Guangzhou this week, it made USD$2.7m in one day of sales.
My point is that just as one part of the world is in darkness before the sun rises, there is a large part of our planet waking up and doing business after a tough battle with the COVID 19 virus. There are opportunities in Asia already and Hong Kong is very much able to be the conduit for this despite travel being difficult to impossible at this time.
China is still a very important market for Canada, but even if China seems too difficult in this period, there is a vast population in the rest of Asia, Australia and New Zealand that are back to business at different stages as the virus dissipates, which it will do just as SARS and the Spanish flu in 1918 did!
So my question is, when your time machine stops, are you ready and prepared?
Upcoming Webinar
Join HKCBA for a complimentary webinar on May 4th, 2020 where Callan Anderson will share an update on China, Hong Kong and Asia, expanding on the emerging opportunities for Canadian businesses.
---